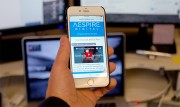 Aespire, a leading digital agency, has been appointed as a Squawqr Mobile Applications Authorized Reseller.
Sheffield Village, OH, January 27, 2016 (Newswire.com) - As an Authorized Reseller, Aespire will be able to deliver these cost-effective, mobile first and user focused apps to the causes and companies which it serves across the United States.
Squawqr apps are cloud-based, platform independent mobile apps. They work on any internet-connected device (phone, tablet, and desktop) but retrieve data only when the app is loaded. This aspect is a key advantage of a Squawqr app: they don't require storage space or software updates.
Aespire's mobile app is designed to showcase many of the core features of the Squawqr platform. See it in action at app.aespire.com.
Traditional mobile apps are downloaded from an app store (such as iTunes or Google Play), require constant updates, and take up space on a user's phone or mobile device. Squawqr apps load into a device's web browser, and create a consistent user experience on phones, tablets, or desktop devices.
In a 2015 Crain's Cleveland article, Squawqr co-founder Sue Grabowski states "They (Squawqr apps) are designed primarily for the way we use mobile, which is different than the way we use a computer. We use our thumbs. We like vertical formats. We like action. We like to be able to thumb-tap and call someone or thumb-tap and get to a map. We don't want to have to use our forefinger and thumb to zoom in on things we cannot read."
Each unique app is accessible from a unique URL or a QR code. The "QR" in the company's name represents the how deeply QR code technology is integrated into the technology.
Squawqr empowers users to change the app's unique QR code on demand, to track users. For example, if a sales representative shares a catalog with a client, she can share a unique QR code with them. When the code is used to find or search the catalog, the sales rep obtains valuable marketing metrics based on that QR code.
Content in a Squawqr mobile app can be managed via Google Docs, with additional features that integrate content and data feeds. Clients own and manage all content, with the ability to make changes at any time.
Squawqr mobile apps support shared content management. A team of users are able to manage specific content, such as schedules, calendars, or directories, depending on what content they have responsibility for.
Mobile first, user focused apps are ideal for companies, nonprofits, member associations, colleges, and universities to connect with their audience through targeted content.
Potential uses for user focused mobile apps powered by Squawqr include:
Product and Service Catalogs
Sports and Athletic Schedules and Team Management
Student-focused Communications
College and University Parent Portals
Facility Directories
Sales Representative Directories
Membership-driven Association Communications
Benefits Directories
Talking Points for Nonprofit and for Profit Board of Directors
Conference and Event Schedule of Events
Conference Programs
Squawqr is the latest addition to the Aespire Insight Marketing Model (AiMM) of platforms that empower clients to create one-to-one marketing and communications. This approach to digital marketing enables causes and companies to nurture leads and relationships through content marketing, and measure the return on engagement and influence (ROE & ROI) of their one-to-one marketing.
AiMM enhances Aespire's branding, marketing, and communication disciplines that help its clients to raise their voice, engage their com­munities, and expand their influence in a digital and social world.
The price of a basic Squawqr mobile application with a standard feature set, (including spreadsheets, text, videos, contact information, blogs, and social media links), begin at $3,000.00 USD, plus an annual hosting fee.
Clients with an interest in multiple apps will have additional flexibility in design and management of apps through an enclosure: a suite of multiple apps owned and managed by one organization.
Squawqr represents the best of apps for everyone, everywhere. Squawqr is smart mobile for smart users. To begin a conversation and start a mobile app for your company, nonprofit, or university, contact Brian Sooy at (440) 809-8970.
Contact:
Brian Sooy, President
Aespire
brian@aespire.com
(440) 809-8970
To learn more about Aespire's Squawqr Mobile Appplication capabilities:
####
Aespire is a digital agency that empowers leaders of mission-driven organizations to bring clarity to their organization's purpose, mission, and culture through values-driven design communications.
Aespire's design leadership guides clients through four dimensions of communication and culture to be strategic, inspirational, relational, and aspirational. Aespire designs engaging and inspirational communications that align brand, strategy, story, and objectives with the hearts and minds of the communities an organization serves.
Aespire practices the disciplines of positioning, strategic alignment, and design thinking to help leaders raise their voice, engage their communities, and expand their influence in a digital and social world.
Share: