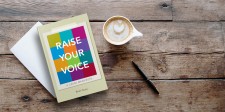 News
-
updated: Sep 20, 2017
Relevance, a leading voice for unique insights into the content promotion and distribution industry, has selected a content piece by agency principal Brian Sooy as a finalist for the Relevance Content Writing Contest 2017.
The Relevance Writing Contest invited submissions in the following categories:
The Case Study: A retrospective content marketing case study – What you would NOT do if you had to do it again?
Tips and Tricks:Tips, shortcuts, and hacks for getting your content seen by the right people with only DAYS to go.
The Game Changer: The biggest GAME-CHANGING trends in content creation and content promotion.
Sooy's submissions were well-received, and included the following articles:
The article, "There is a better way: The things I won't do the next time I write and launch a book," is a candid retrospective case study about the journey of publishing agency principal Brian Sooy's first book, "Raise Your Voice: A Cause Manifesto."
Published in 2014 by RockBench Publishing Corp., "Raise Your Voice: A Cause Manifesto," is top-rated in the following Amazon.com book categories:
Sooy has authored multiple books in the leadership, professional development, and children's literature categories.
Share: