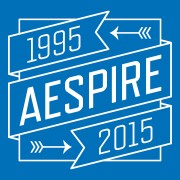 Branding and marketing agency Aespire celebrates 20 years of business in Northeast Ohio.
Sheffield Village, OH, August 20, 2015 (Newswire.com) - Branding and marketing agency Aespire is celebrating its twentieth year of business in northeast Ohio.
Aespire has evolved from a generalist design firm to an agency that specializes in aligning purpose, strategy, and design for mission-driven organizations.
"It's exciting to consider the hundreds of leaders and organizations that Aespire has had the privilege to work with over the last 20 years.  Along the way, we've received some recognition and won some awards; but what is most meaningful is the impact that Aespire continues to have on our client's brands, communication practices, and impact in the community," says Brian Sooy, President of Aespire.
Over the last two decades, Aespire's regional presence has expanded and the creative agency has become nationally known for its work with colleges, nonprofits, non-government organizations, and foundations.
Aespire has kicked off a year of celebration with a book giveaway of the top-rated book, "Raise Your Voice: A Cause Manifesto" by agency president Brian Sooy, and the best selling "Louder Than Words" by Todd Henry.  Learn more at aespire.com/books/one-two-punch.
Aespire also released the new Raise Your Voice poster, featuring 12 resolutions for mission-driven communication and culture, for subscribers to its ChangeMakers Movement learning program.
Community impact is an important aspect of Aespire's business.  Over the last 20 years, Aespire has practiced impact philanthropy through sustained and focused support of select nonprofit organizations.
"Lorain County Community College, Open Door Christian Schools, Second Harvest Food Bank of North Central Ohio, Cottage Cove Urban Ministries (Nashville), and other regional and national organizations have been strengthened by our support," says Sooy.
Founded in 1985 as Brian Sooy & Co., and operating as Aespire since September 2012, the agency formally changed its name to Aespire in February 2015 to reflect its mission to help causes and organizations create change through design with purpose. Aespire relocated after 19 years from Elyria, Ohio to Sheffield Village, Ohio in April 2015.
For more information about who chooses to work with Aespire, visit aespire.com/clients or contact Brian Sooy, President, at brian@aespire.com, or by phone at (440) 809-8970. 
###
Aespire® is a leading creative agency that empowers passionate leaders and change makers to align purpose, strategy, and design for the greater good. We work with mission-driven organizations to design communications that influence, inspire, and engage the communities they serve.
Contact:
Brian Sooy, President
brian@aespire.com
(440) 809-8970
aespire.com
Aespire provides thought leadership and knowledge resources through several channels:
Case Studies:

aespire

.com
Thought leadership:

aespire

.com/blog
Follow: @

aespire

on Twitter
Like:

Facebook

.com/

Aespire

+1:

gplus

.to/

aespire

Youtube

:

youtube

.com/user/

AespireInsights
Share: