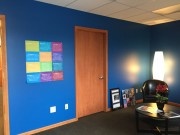 After 19 years in Elyria, Ohio, strategic branding and design agency Aespire joins the fast-growing business community of Sheffield Village, Ohio. The move positions Aespire for growth as it serves colleges, foundations, nonprofits, and mission-driven organizations across North America.
Sheffield Village, OH, June 20, 2015 (Newswire.com) - After 19 years in Elyria, Ohio, creative firm Aespire has relocated to new offices in Sheffield Village, Ohio. 
On April 1, 2015, Aespire joined the fast-growing business community in Sheffield Village. The strategic branding and design agency completed its relocation after several months of evaluation, planning, and a phased move-in period. This approach ensured minimal disruption to its branding, visual communications, and web development work with colleges, foundations, nonprofits, and mission-driven organizations.
Aespire's new office is located at 5061 North Abbe Road, Suite 2, in Sheffield Village, Ohio, 44035-1496. The 2,350 square foot office features private and common workspaces, a conference room, library, and areas for collaboration. 
The new office facilitates Aespire's increased interaction with new audiences and clients. "We've been reaching a wider audience for well over three years with our blog, thought leadership, and marketing automation initiatives." 
"In mid-2014, looking ahead to our 20th anniversary, we began considering how we will be serving our clients for the next 15 years. As Aespire continues to explore new opportunities, and attracts attention outside of Northeast Ohio, we recognized the need for an office space that would be more suitable for serving our existing regional clients and growing client base across the United States and Canada," noted Brian Sooy, president of Aespire. 
Additionally, the continuing recognition brought to Aespire by the publication of Sooy's book, "Raise Your Voice: A Cause Manifesto," has attracted the attention of organizations and causes from around the world.
As Aespire interacts with these organizations, the new office enables the company to make the most effective use of videoconference and interactive technology for collaboration and communication. It will also make it easier to extend their "Raise Your Voice" podcast with video and conduct more marketing and branding webinars for the education and nonprofit sectors.
The move to Sheffield Village coincides with the long-planned transition of the company name from Sooy+Co. to Aespire. In a September 2014 Crain's Cleveland article, Sooy commented "It's a great time to announce that after 20 years of successfully operating this company (Sooy+Co.), we feel this new practice (Aespire) has great potential, and we want to operate solely as Aespire." (Aespire is pronounced like aspire; the e is silent).
Sooy further explained, "We've always understood that our work is not about us; it's about the success of our clients, their stories and their impact on education, entrepreneurship, economic development, health and wellness, philanthropy, and other causes.
"We're confident that our work has had a significant impact on the initiatives and programs upon which we've collaborated; and we are grateful for the opportunity to support the remarkable and increasingly interconnected organizations whose missions advance meaningful causes.
"For us, design is more than positioning, branding, visual communications, and marketing—it's also about solutions that empower our clients to communicate with clarity to every stakeholder; to lead by design and with purpose; and to create a culture of communication for their organization."
"The name Aespire represents how our clients work towards the best outcomes—by serving with purpose and with a mission to achieve their vision for the greater good, for the causes and communities they serve."
For more information about Aespire and its clients, visit aespire.com or contact President Brian Sooy at brian@aespire.com, or by phone at (440) 809-8970. To view a gallery of the new office, visit bit.ly/AespireOfficeGallery.
+++
Aespire® is a leading agency that empowers mission-driven causes with strategy and design for the greater good. We work with educational institutions, philanthropies, nonprofits, and purpose-driven organizations to create strategic brands and smart communications. We help meaningful causes tell stories that inspire, motivate, and engage their audiences. We enable organizations and their leaders to communicate with clarity, and connect their mission with their followers to achieve greater impact and change the world.
Share: