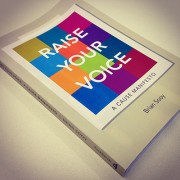 One year later, Brian Sooy's book on nonprofit branding and mission-driven design "Raise Your Voice: A Cause Manifesto" remains top-rated on Amazon; and gains national attention from organizations such as the National Council of Nonprofits, Wyoming Humanities Council, Ohio Small Business Development Centers, and the Cleveland Council on World Affairs' international program for nonprofit leaders.
Sheffield Village, OH, June 23, 2015 (Newswire.com) - Mission-driven organizations, nonprofit agencies, and philanthropies now have more opportunities than ever to connect with supporters. From traditional media and direct mail to targeted email, blogging, social media, and fundraising campaigns, opportunities to tell an organization's story abound. Effective communication remains a constant challenge.
With an estimated 1.5 million nonprofits in the United States seeking support for their own meaningful causes, the question is "How do we cut through the noise and make our voice heard?"
The answer, says designer and nonprofit communications expert Brian Sooy, author of "Raise Your Voice: A Cause Manifesto" (RockBench Publishing, 176 pages, ISBN 978-1605440293), is centered in mission-driven design: aligning identity, design, and marketing communications with an organization's purpose and mission.
Launched one year ago, Brian Sooy's book on nonprofit branding and mission-driven design, "Raise Your Voice: A Cause Manifesto" remains an Amazon top-rated book.
"Raise Your Voice: A Cause Manifesto" has caught the attention of state and national organizations such as the Wyoming Humanities Council and the National Council of Nonprofits. "Raise Your Voice" has also brought invitations for Sooy to speak to education professionals, nonprofit leaders, and social entrepreneurs at Taylor University, Lorain County Community College, Lakeland College, the University and College Designer Association's Annual Conference, and The 2015 National Council of Nonprofits' State Council Learning Confab.
"An organization's distinct voice and personality reflect its goals, values, and mission for the greater good," says Sooy. "Finding that voice and keeping it grounded in its purpose is essential to communicating successfully and nurturing relationships with donors and advocates."
The central premise of "Raise Your Voice" is that an organization can connect best with its audience by communicating its values with clarity and consistency through its purpose, character, culture, and unique voice. Grounded in a dozen strategic principles, Sooy's work helps clarify not only an organization's message and visual communication, but also its mission—and aligns those elements in a way that produces powerful results.
Julie Chase-Morefield, Executive Director of Second Harvest Food Bank of North Central Ohio, shared her perceptions: "Part of what brings a donor to a cause is the hope of being part of a greater good. With 'Raise Your Voice,' Brian Sooy gives nonprofits a means to go beyond being the loudest voice in the room to crafting a clear, articulate message which allows donors to see themselves as part of the solution."
Reaching beyond the nonprofit space, it has become evident that the principles of "Raise Your Voice" also appeal to leadership and organizational development professionals. "When 'Raise Your Voice' was first published, we did not anticipate the enthusiastic response we have received from the leadership community or human resource professionals." says Sooy. "It became clear that leadership development professionals view my 12 Resolutions as leadership principles; HR professionals value the message of "Raise Your Voice" for how it lays the framework for a 'culture of communication' in organizational development."
"Raise Your Voice" draws upon Sooy's extensive experience as president of Aespire, a design and marketing communications agency that works with mission-driven organizations, nonprofits, foundations, and colleges. Sooy, a lifelong resident of Elyria, Ohio, is President and design director of Aespire, which serves a national client base from Sheffield Village, Ohio.
A graduate of Ohio's Lorain County Community College and Bowling Green State University, Sooy has more than 30 years of experience as a designer and nonprofit consultant. He publishes thought leadership extensively, and serves organizations across the country as a consultant, speaker, and workshop presenter. Sooy holds board leadership positions with Second Harvest Food Bank of North Central Ohio and Sonlife Ministries, and serves as an advisor to other nonprofit organizations and their leadership.
Venture Philanthropy Partners, publishers of the groundbreaking book "Leap of Reason," said "Sooy provides a framework for understanding how an organization's purpose, character, culture, and unique voice can connect mission and audience more effectively. The 12 resolutions of The Cause Manifesto help leaders align their communication strategy to the outcomes they are working to achieve."
Anyone serving within a mission-driven organization will find value in "Raise Your Voice"—executives, communication directors, development officers, and program managers, as well as board members, volunteers, and grant recipients.
For additional resources to help your organization achieve its mission, and to order "Raise Your Voice: A Cause Manifesto" for your board or staff, visit http://www.aespire.com/books. New thought leadership is published monthly for the nonprofit, philanthropic, and higher education communities at aespire.com/blog.
Share: